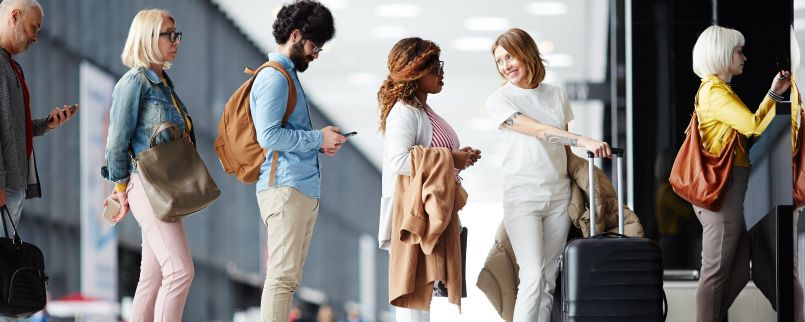 Queue Management
We are helping airports to improve queue performance while ensuring compliance with service level agreements with real time passenger counts and waiting time analytics. TAV Technologies supports airports to improve their passenger experience by queue management solutions.

Queue Management is a service offered using queue management technology to reduce waiting times at airports, optimize passenger experience and increase revenues.
The dedicated QM camera uses 3D depth-sensing technology to provide optimum queue management.
Key features:
Real-Time waiting times for passengers,
Waiting time predictions,
Number of passengers in each queue.
Real-time alerts,
Better allocation of passengers to security gates,
Detection of overcrowded environment and abnormal situation,
Passenger distribution and occupancy of the area,
Benefits :
By monitoring a queue in real time, you can open new lines, add more service staff or configure the queue, learn the density of passengers and manage the queues accordingly.
Measure and predict peak times so you can predict and determine needs using historical intensity information.
Calculate the total number of passengers waiting in the queue so that you can direct passengers to shorter queues to reduce density as needed.
Evaluate the average waiting times of the passengers in the queue accordingly, by opening additional queues, you can reduce the waiting times and improve the passenger experience.